[ Home ] [ GARS application ] [ Swap Shop ] [ Calendar ] [ GARS_Training ] [ Club Photos ] [ Net Control Operators Schedule - 2meter rag chew ] [ Contact List ]
WELCOME TO
THE GENESIS AMATEUR RADIO SOCIETY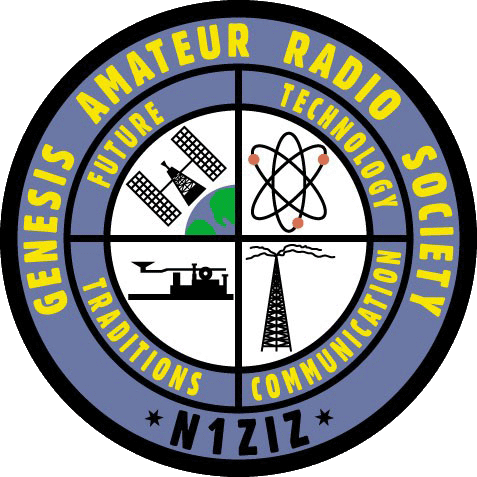 Genesis Amateur Radio Society, Inc.
The Genesis Amateur Radio Society's Plymouth Repeater 146.685Mhz.
PL tone of 131.8 with Tone Squelch and a minus (-) offset.
Please use and enjoy!
GARS Officers & Board Members
CLUB OFFICERS
~President- Michael Bennett - KG1U~
~Vice President- Jack Buckley - W1AKN~
~Secretary- Terry Tilden (Interim) - N1TT ~
~Treasurer- Paul Leavitt - N1PAU~
EXECUTIVE BOARD MEMBERS
~Education Officer -Chris Johnson - N1IR~
~Member at Large - Terry Tilden - N1TT~
~Member at Large - Bob Smith - KK3P~

~Member at Large - Owen Malaguti - KB1CGP-
~Member at Large - Unfilled - ~
GENESIS SPONSORED NETS
ALL HAMS WELCOME TO ALL NETS
2-METER RAG CHEW NET
Tuesdays at 7:30 PM on 146.685 repeater PL tone of 82.5 with Tone Squelch.

Net Control Stations

Chris Johnson (N1IR ) Derek Bennett (KB1WFP ) Owen Malagutti (KB1CGP)
Michael Bennett (KG1U)

If you are interested in being a Net Control operator, please contact Owen (KB1CGP)
MEETINGS
Last Monday of the month at 7:00 pm
Plymouth Airport Community Room,
South Meadow Road, Plymouth, MA
Next meeting MONDAY March 25, 2019 at 7pm
Genesis ARS would like to thank the Plymouth Municipal Airport for their many years of support for letting us hold our meetings and our annual field day events at the airport.
---
---
Click for weather forecast
PLYMOUTH WEATHER







?>


[ Home ] [ GARS application ] [ Swap Shop ] [ Calendar ] [ GARS_Training ] [ Club Photos ] [ Net Control Operators Schedule - 2meter rag chew ] [ Contact List ]